Our properties
Kyo Machiya Miyabi is in two Kyoto' s main areas: Kiyomizu and Sanjo Kamanza. Convenient and beautiful locations.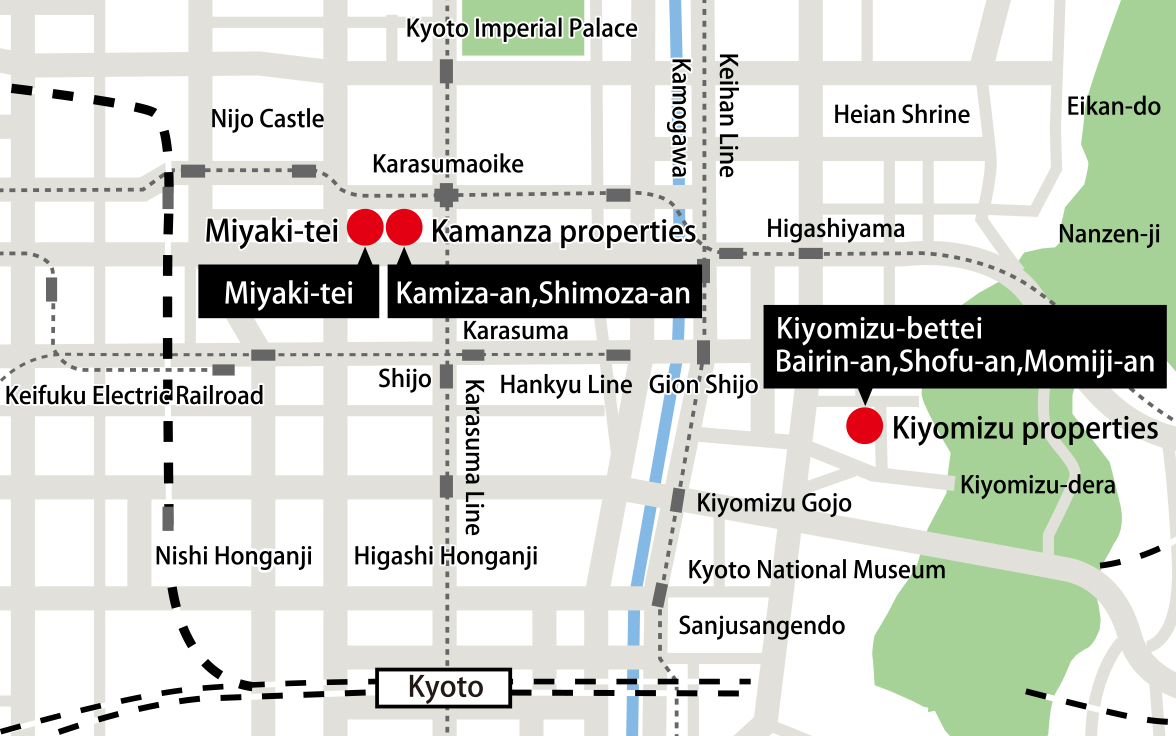 ■ Higashiyama ward
(Kiyomizu, Gion area)
Bairin-an

3 guests

Shofu-an

5 guests

Momiji-an

3 guests

Kiyomizu-bettei

8 guests
Originally a big machiya has been divided in three properties:Bairin-an,Shofu-an,Momiji-an with indipendent entrances. Perfect for groups too.
■ Nakagyo ward, Kamanza
(Nijo Castle/ near Karasuma St. and Oike St.)
Kamiza-an

5 guests

Shimoza-an

5 guests
This house used to be a two storied machiya and we divided into bottom and upper floor, convenient also for a big group of family or friends.
■ Central Kyoto
(close to the World Heritage Nijo Castle and lively Nishiki Food Market)



Miyaki-tei


9 guests
Various sightseeings can be enjoyed while staying as a local.
Perfect for two guests.
Rate
Rate for extra guests: Yen 3.000 or Yen 5.000 for each extra guest per night(Different property); No charge under 5 years old. ※We request minimum two nights stay.